Using the turtle toppy™ is super easy and almost effortless. REMEMBER-This product is a universal infant car seat cover and will fit most infant carriers.
(we have not been able to find one it will not fit yet)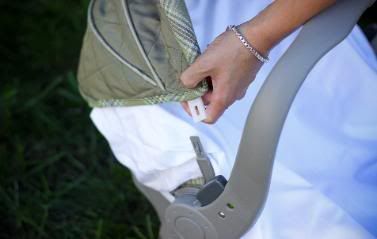 -Start by sliding off your existing canopy/shade cover and revealing the plastic spine that holds its shape.
-Then insert that spine into the turtle toppy's™ spine sleeve.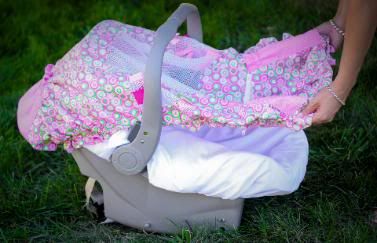 - Then you can wrap the toppy cover over the back of the carrier or car seat
- Once you have achieved a firm hold around the back of the carrier you can place your child
into the seat and buckle according to the manufacturers guidlines.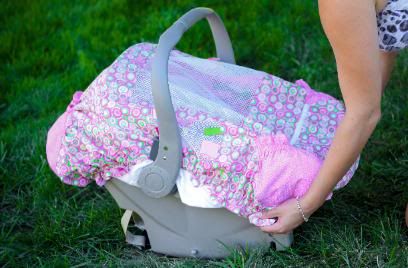 - Now you can leave the toppy in the upright position or pull the toppy down over the bottom of the carrier,
the elastic band built in does the rest. Your child is now ready to enjoy the security of turtle toppy™ !!
**Please remember that we do not recommend leaving your baby unattended in any situation.
The toppy is not in any way intended to act as an impenetrable barrier between the child and the
elements or strangers. And please be sure
when choosing which toys to attach to the toppy toy loops that there is no choking hazard present.
Maintenance
- Other than a regular washing(instructions below) there is no maintenance required for your turtle toppy™.
Washing Instructions
- For best longevity we recommend hand washing, however you may machine wash, mild soap, lay out flat or hang dry.
We have experienced that softeners will fade the toppy more rapidly so we do not recommend their use.
(Please note that you should wash the window cover separately to avoid the velcro from tangling)